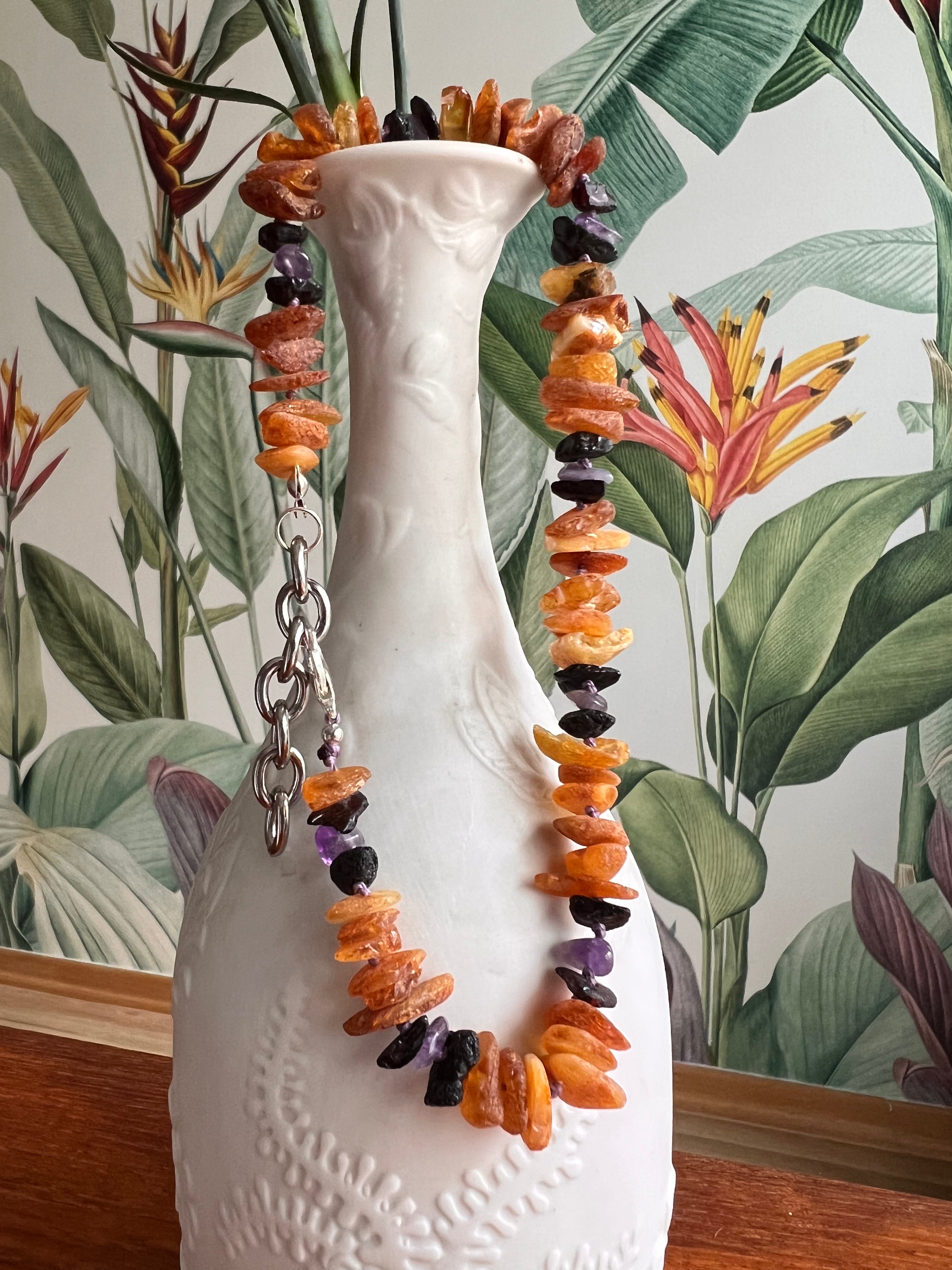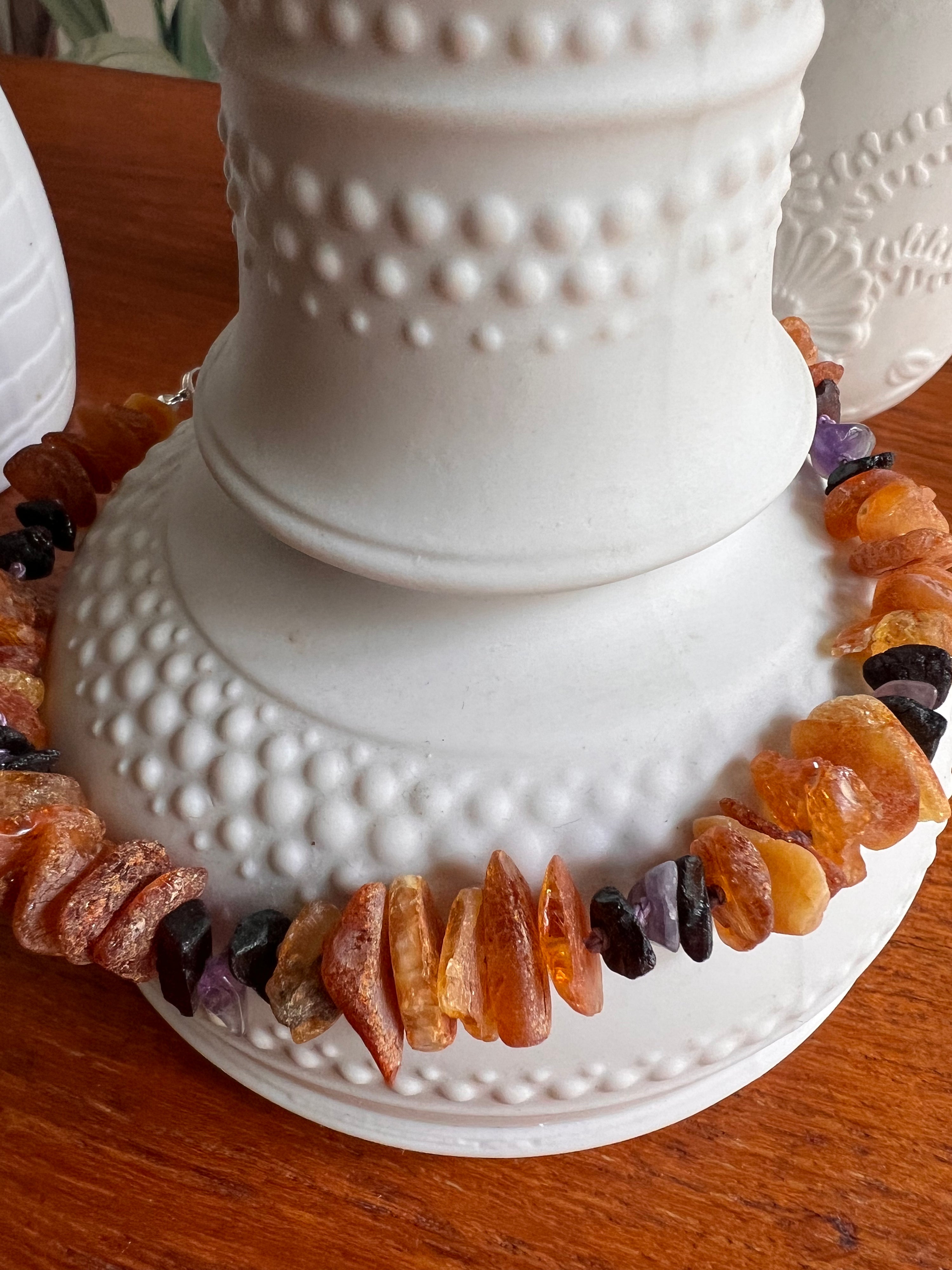 Light and dark coloured amber dog necklace with Amethyst
Honey coloured raw amber from the Baltic Sea in combination with dark amber and Amethyst pearls in this necklace. It is closed with a hook and a chain and allows for around 5cm variation.
Size 25cm / 9.4":
first: 25 cm/9.4"  last: 29 cm/ 11.4"
Size 30cm / 11.8":
first: 30 cm / 11.8"   last: 35 cm/ 13.7"
These necklaces are said to be a natural remedy against ticks. The constant wearing causes the stones to rub off essential oils that spread out on the fur and make it harder for ticks to stay and settle down. Our dachshunds have been wearing the necklaces for years and always had little to no ticks.
In addition it is advised to put a little bit of coconut oil in your dachshunds food and on his fur- smells wonderful and is also a tick repellant. Black cumin oil is also a very good addition to the meals. There are many natural remedies out there that you don't have to use the chemical ones that are often harmful or can cause unwanted side effects like rashes, paralysis etc. just look for 'chemical tick repellent side effects' online! Of course we cannot guarantee that your dog won't have any ticks, but we can guarantee that combining oils and necklaces won't do your dog any harm.
Wearing time: The necklace should be worn 24/7. But you can take it off if your dachshund is playing with other dogs and you are afraid it could break or get lost. The necklace does have a rated break point, but still you should not let your dog out of sight while wearing it. We don't take any responsibilities for any harm taken. The necklace can be worn in the water without any problems. You can dry it in the sun afterwards if needed. You can also wash it with tab water and then let it dry in the sun. Since it is a natural product beads can chip and come off and we won't guarantee all of them will stay on.
When to change the necklace: After one year you will see that the amber pearls have been polished and then it's time to exchange the necklace for a new one. Because the pores have been closed due to the polishing and therefore cannot release any more essential oils.
Benefits of Amethyst with dogs: It has many different benefits, is said to have a positive effect on willpower and courage and give strength. At the same time it is said to help dogs to relax and decrease stress levels. It is also used when the dog is suffering from skin issues and eczemas, but also from Epilepsie or sleeplessness.
Since this is a natural product and handmade, necklaces can vary from the photo.
This necklace cannot be used as a dog collar with leash!
Light and dark coloured amber dog necklace with Amethyst
Free exchange policy
In case you've picked the wrong size you have up to 30 days to return or exchange your ordered items. We will send out the exchanged products without any additional shipping costs for you.
Worldwide shipping
We ship worldwide with the option of extra fast International Express shipping.
Professional customer service
Unsure about the perfect size? We are here to help! Write us via our contact form with the type of your Dachshund, weight and if possible a photo.