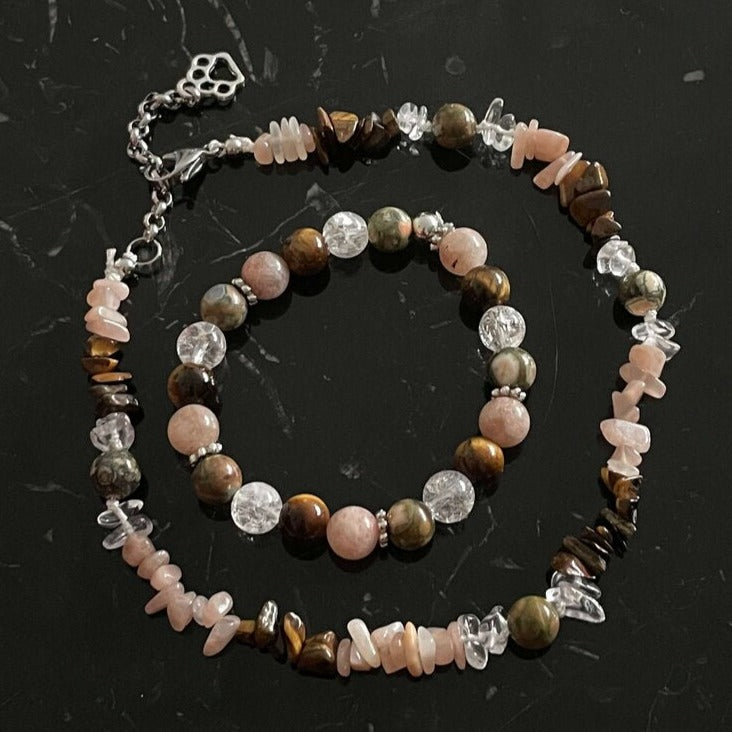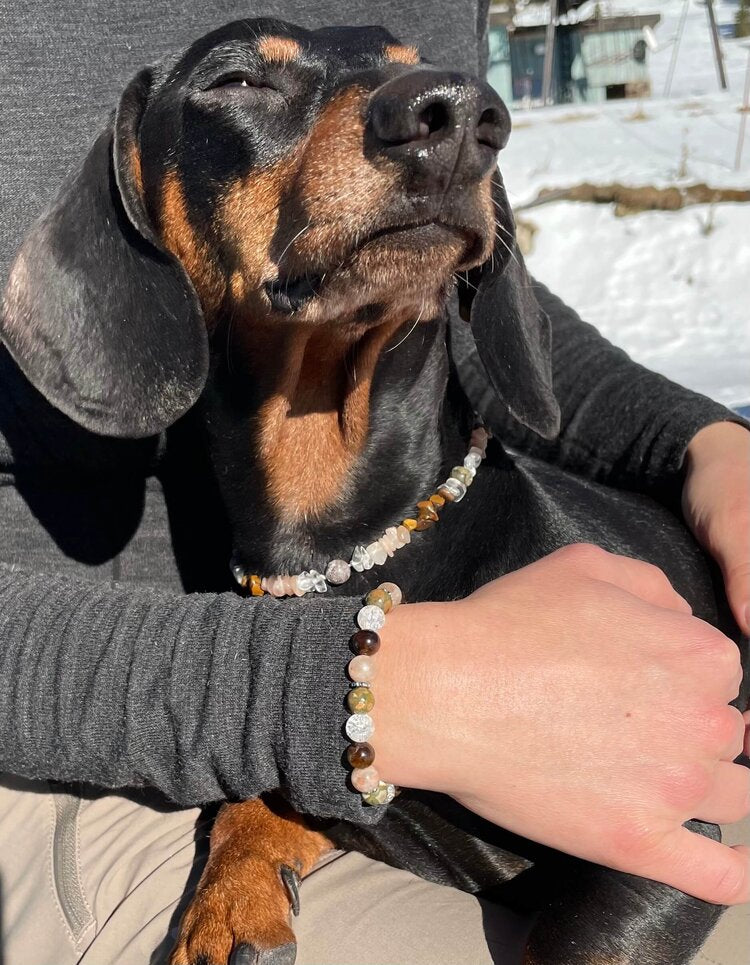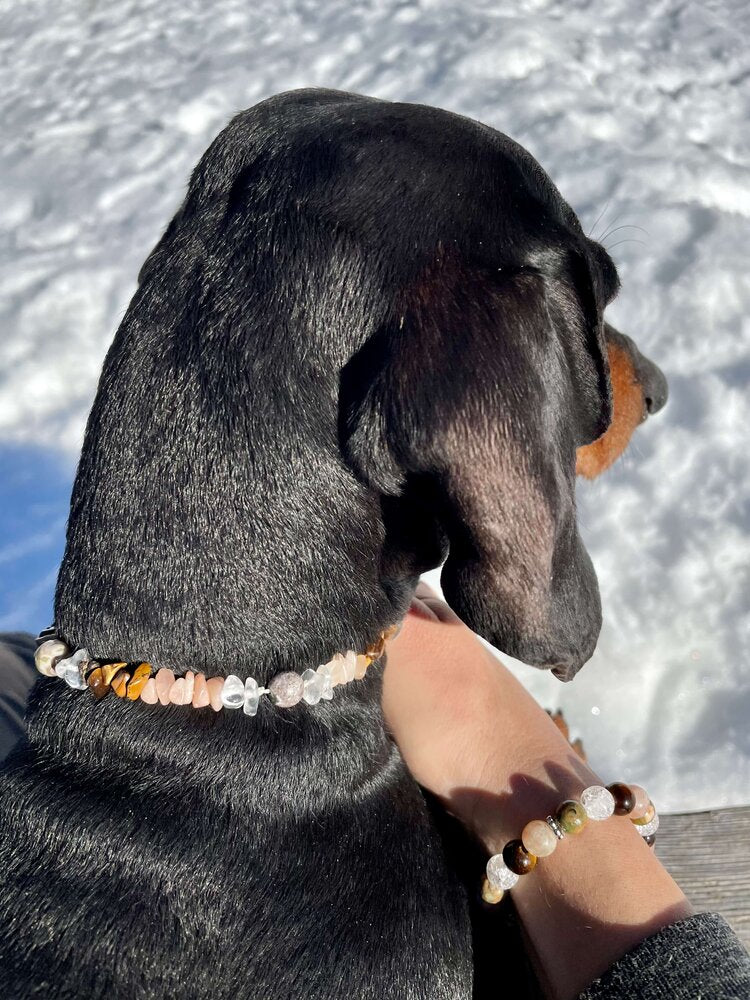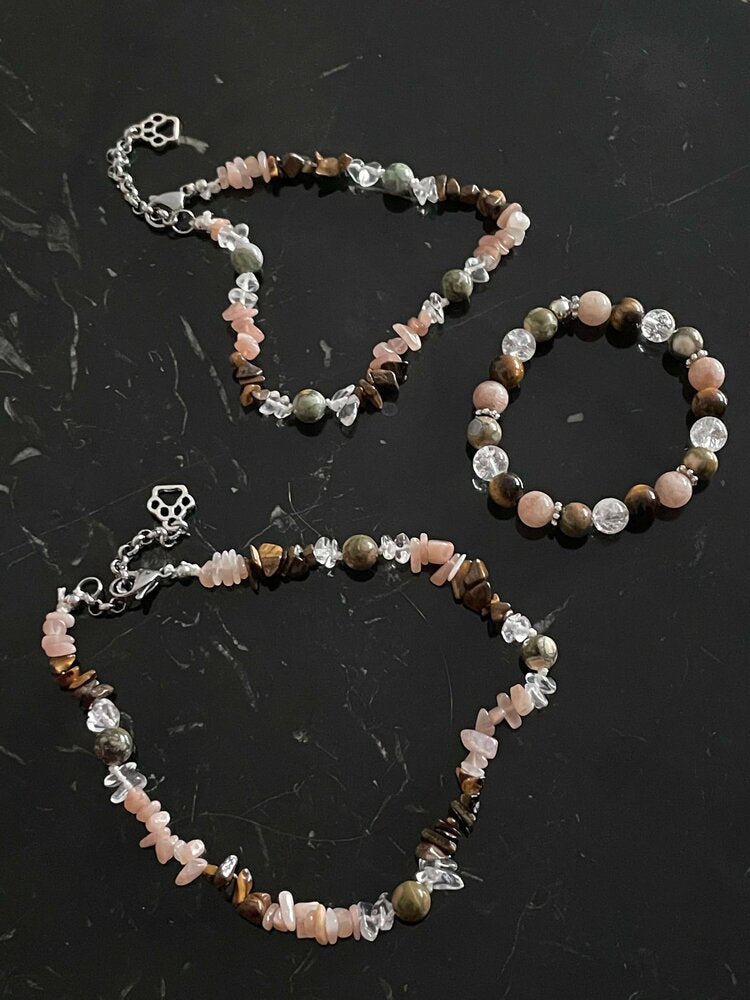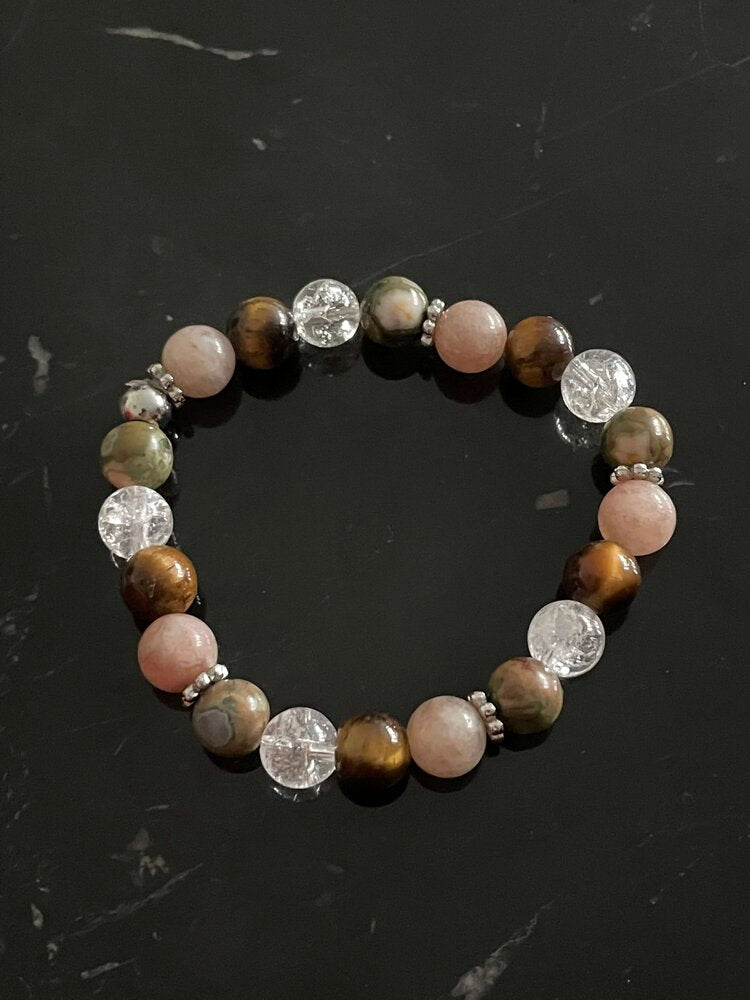 Partner Set Necklace & Bracelet
We've teamed up with a holistic vet to create the perfect necklace for dachshunds made of semiprecious stones. The stones are picked to compliment the dachshunds' character and these items can help both you and your dog improve your health, balance your emotions, and enhance your quality of life. That is why along with the necklace we also offer a bracelet for humans with the same stones. You can either purchase a set of necklace and bracelet or the necklace by itself.

The semiprecious stones and their meaning for dogs:
Ryolith: connects the autonomic nervous system with the conscious nervous system. This way we are more likely to find out that we not only have bodily, but also mental needs and desires. Due to this insight we receive the ability to mesh these both.

Tiger's-eye: lends the wearer familial warmth, a feeling of security and balance.

Heliolite (sunstone): it's a illuminative stone, which strengthens the warmth and affection within our hearts and lends more self control.

Quartz crystal: THE harmonious stone! It balances and revitalizes the physical, mental, emotional, and spiritual state and increases focus and communication.
CLEARING AND CHARGING: It is crucial to clear the necklace and bracelet from bad energies every two weeks at least. Therefore you should put it for 16 to 24 hours into a bowl with hematite pebbles. After that you want to charge it with positive energy again and activate it by putting it into a little bowl with clear quartz pebbles for around 8 hours.
There are two different sizes available for your dachshund:

25 - 30 cm - for kaninchen, miniature and tweenie dachshunds

30 -35 cm - for Standard dachshunds

Wearing time: The necklace should be worn 24/7. But you can take it off if your dachshund is playing with other dogs and you are afraid it could break or get lost. The necklace does have a rated break point, but still you should not let your dog out of sight while wearing it. We don't take any responsibilities for any harm taken. The necklace can be worn in the water without any problems. You can dry it in the sun afterwards if needed. Since it is a natural product beads can chip and come off and we won't guarantee all of them will stay on.

THIS NECKLACE CANNOT BE USED AS A DOG COLLAR WITH A LEASH!
Partner Set Necklace & Bracelet
Free exchange policy
In case you've picked the wrong size you have up to 30 days to return or exchange your ordered items. We will send out the exchanged products without any additional shipping costs for you.
Worldwide shipping
We ship worldwide with the option of extra fast International Express shipping.
Professional customer service
Unsure about the perfect size? We are here to help! Write us via our contact form with the type of your Dachshund, weight and if possible a photo.