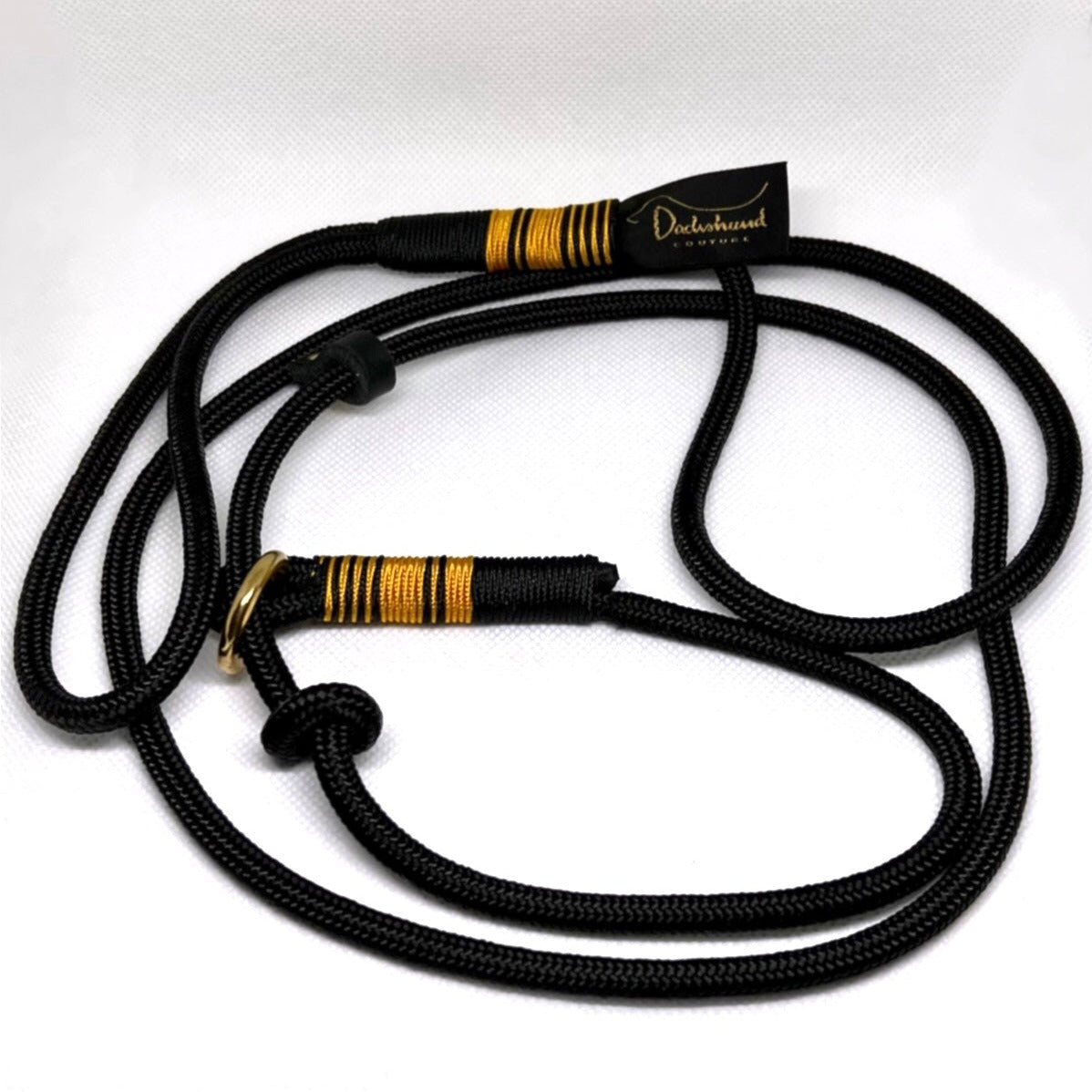 This dog lead in black with black and gold detailing is a chic and understated companion on all your walks. It has been handmade in Germany with the utmost care and the durable material will last a long time. The retriever style is very practical, within a second you can put it over your dogs head and remove it again. We are always using this kind of dog lead because they are so easy to handle. Especially in winter, when you are wearing gloves, the carabiner or other closing options are so hard to open and close. Now you found something to make your life easier!
The lead does not choke or strangle your dog. The knot keeps it from closing too far and there is a stopper made of leather, that is moveable on the cord, so the loop won't open up too far.
We are offering the lead in two different widths and have been trying both on Carlos and Diego and we suggest the 6 mm lead to be used with smaller dachshunds and other breeds up to 7 kgs. And the thicker one with 8 mm to be used for dachshunds and other dogs from 8 kgs upwards.

Puppy, Kaninchen & Mini dachshund
Length: 120 cm /
Width: 0.6 cm /

Mini, Tweenie & Standard dachshund
Length: 127 cm /
Width: 0.8 cm /

Mini, Tweenie & Standard dachhsund
Length: 207 cm /
Width: 0.8 cm /

Handmade in Germany


Free exchange policy
In case you've picked the wrong size you have up to 30 days to return or exchange your ordered items. We will send out the exchanged products without any additional shipping costs for you.
Worldwide shipping
We ship worldwide with the option of extra fast International Express shipping.
Professional customer service
Unsure about the perfect size? We are here to help! Write us via our contact form with the type of your Dachshund, weight and if possible a photo.